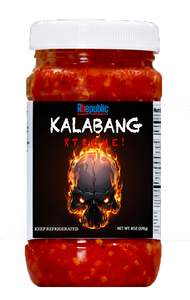 KALABANG XTREME
Rhepublic
Regular price $15.00 Sale
KALABANG XTREME 
NORMALLY SHIPS WITHIN 1-2 DAYS.  ORDERS PLACED ON WEDNESDAYS OR LATER IN THE WEEK WILL SHIP OUT ON MONDAYS.  SHIP UP TO 6 BOTTLES FOR THE SAME SHIPPING PRICE. WE SHIP TO ALASKA!!
Kalabang XTREME is a delicious blend of chilies and spices but with some XTREME HEAT.  This is extremely hot and you should avoid direct contact with any part of your body as doing so may cause irritation.
Use Kalabang XTREME at your own risk!!!
Kalabang does not need to be thawed before use.  You can scoop a tea spoon or more straight out of the freezer anytime you want to enjoy some delicious heat with your meal.  Kalabang comes in a convenient package that can be taken to work, a picnic, or a restaurant.  We do not use vinegar or artificial preservatives so the taste is as close as possible to freshly smashed peppers without the hassle. 
Ingredients:  Chili, Fish Sauce (Anchovy Extract, Salt, Sugar), Garlic, Salt, Oleoresin Capsicum, Spices
Kalabang is manufactured in a facility that also processes: Milk, Walnuts, Pecans